Oil Market Update
On May 9, the Algerian oil minister
confided
that even with OPEC pumping at maximium capacity, world oil supply would not be enough to meet demand in Q4.
"Let's assume we go to a maximum (in output) and assuming we don't have any (significant) stocks, we are not going to meet demand in the fourth quarter," Khelil said on the sidelines of an energy ceremony in the capital Algiers.
"What you need to do is raise stocks in the third quarter to accumulate enough of them in the third quarter that you can deplete stocks and maintain a high level of production for the fourth quarter. That's what I've been saying we need to do," he said.
Which appears to be precisely what's happening. US oil stocks are at a six year high, as the EIA's Week in Petroleum shows: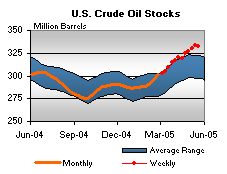 At a
speech
at the Economic Club of New York on May 20, Alan Greenspan noted that a similar accumulation of oil stocks was taking place in other major countries.
He also notes that the oil futures market is in contango - that is, present delivery is at a discount to future delivery. His explanation is that a demand slowdown combined with expanded production have caused prices to drop in the short term: presumably by that he infers that higher future price is the real market price for oil. The contango situation also seems to square with Khelil's anticipated Q4 tightness.
This is a clear shift in tack for OPEC. Speaking at the WEF conference in Amman at the weekend, the current president of the cartel, Kuwaiti Oil Minister Sheikh Ahmad Fahad al-Ahmad Al Sabah, made the slightly confusing statement that instead of focusing on stocks, OPEC was now focusing on prices. Given the tight linkages between the two, the comment doesn't enlighten particularly. But looking at the pattern of inventory accumulation, the statement becomes clearer.
To backtrack a little - OPEC's strategy up until now has been to keep foreign oil stocks low. Some might argue that this is just to buoy up the price: the more nuanced argument is that it is a way to maintain a tight linkage between OPEC oil production and market prices. When stocks are low, demand for OPEC oil is inelastic, regardless of the price; when stocks are high, they can theoretically be substituted for imported oil and so demand for OPEC production becomes more elastic. So making sure that foreign stocks are low mean that by playing with supply OPEC could keep a very tight hold over prices.
All of this broke down over the last year, however, as increasing demand narrowed official OPEC spare capacity to about 1 million barrels per day. Khelil's comments suggest that even that margin may be exhausted at the moment, and after all the OPEC members are notorious for not abiding by their quotas.
So the new strategy is to use US stocks to replace the missing buffer zone. Reports of higher inventories have dampened some of the volatility in the oil futures market, but without causing a major dip in prices - WTI and Brent are both hovering around the US$50 mark and show little sign of dropping below US$40 in the near future - which seems to be persuading OPEC that it is safe to continue allowing major oil consumers to carry on building their inventories ahead of the Q4 squeeze.